Getting started with Mailee
Mailee.me is an email marketing web application. With Mailee, you can maintain a closer, more personal relation with your customers, prospects and stakeholders.
When should you use Mailee
To send newsletters
Mailee.me is perfect for sending newsletters or email campaigns of any kind. Since this kind of communication is usually done with a certain amount of frequency, you can follow up the progress of your campaign over time.
This way, it is possible to develop a strategy to improve your results constantly and maintain a better relationship with your audience.
To send special offers and email campaigns
Mailee.me can also be very useful in sending email campaigns and offers aimed at getting high conversions (clicks, sales, etc).
You can even integrate Mailee to your Google Analytics, so that is possible to know exactly which conversions were generated by email marketing. Consequently, you can improve your campaigns over time to reach your objective.
Any other email content
Barring unsolicited or irrelevant emails, all other forms of communication are welcome. Unleash your creativity and keep the people in your network updated with the help of Mailee.me.
In all the cases above, we only recommend sending messages actively solicited by other people. Beyond legal questions involving SPAM, campaigns for people who didn't solicit them are not worth the investment. Your results are worse and your reputation gets seriously compromised.
When you shouldn't use Mailee.me
Prospecting, searching for new contacts, etc
Mailee.me, just like all email marketing tools in general, isn't made for prospecting or finding new contacts. By getting in touch with someone who didn't sign up to receive your email, you are disrespecting them. And if you start your relationship with your audience this way, it can only go downhill.
Although Mailee.me wasn't made for prospecting, it doesn't mean you cannot use it along with other ways of finding new contacts. For example, creating a Twitter campaign asking for subscriptions to your newsletter is a great way of using Mailee.me to widen your network and build new relations.
How to get started right away
Mailee.me is an email marketing web app, so, to get started you should first access Mailee.me and create your free account. All you need to do is fill in these fields: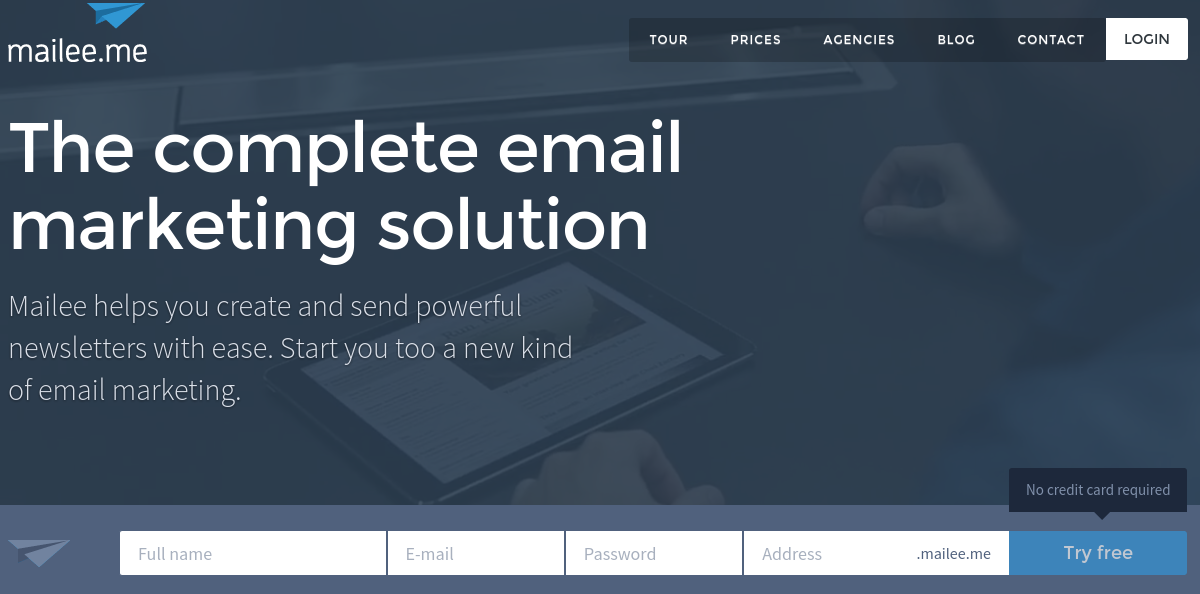 Full Name

Your name

Email

Your email address

Password

Pick a safe password, with eight or more characters, numbers, letters and special characters.

Subdomain

This will be the address through which you can access your account, such as youraccount.mailee.me
All done!
Your account will be created and you'll be redirected to Mailee's Setup page. From there, you'll be asked to verify your domain. After that, you can start importing contacts and go on to create your first message.
Are you ready to get started? Remember, you can always get in touch with us!