Get to know Mailee.me's agency plans
Mailee.me offers a special plan for agencies. This means that we have a version of Mailee that's specially suited for advertising or digital marketing agencies, in which you can buy credits with a discount and manage them between your clients' sub-accounts. In this article we will learn:
What is an agency plan and how does it work
What are the advantages of this plan
Who is suitable for this plan
Agencies at Mailee.me
Agencies can resell credits as well as services such as template creation, analytics and other campaign activities to their clients. The cool thing is that you can divide the credits between your clients and manage everything. This simplifies everything for your clients, while keeping everything practical and efficient for you. As a result, you get to use an email marketing tool that is simple, yet robust.
How does it work
Our plan for agencies works like this:
We will take a look at your website and portfolio to see if your agency is suitable for the plan
If you are considered suitable, your account will be transformed into an agency account and you will be able to sign up your clients and manage credits and other information.

You will be able to access your agency account through the URL yoursubdomain.agency.mailee.me.

You can choose whether your clients will be able to see how many credits they have. They will pay you directly and you will manage everything.
You can add as many clients as you want and divide credits between them.
The agency, as well as each client, can insert their logos in the account. It is also possible to customize the URLs.
Agency accounts have a discount on the average price. The only difference is that, for agencies, the lowest available plan is a 100 thousand credits. Credits never expire, so you can use them for as long as you need. The only exception is, if an account is not accessed for more than 365 days, an email will be sent to inform you that some information might be deleted.
An agency is suitable for this plan if:
The agency aggregates value to the final client, offering several services.
The agency can bring potential clients to Mailee.me.
The company follows Mailee.me's best practices.
If this is your case and you wish to try the agency plans, then sign up here.
Adding clients
To add a client, click on the Clients tab and on the Create option, which is on the left-hand side menu. Now, just fill in the name of the client, the subdomain of the account, an initial amount of credits and the email address.
You can also check the following options:
Can make payments - By checking this option, you allow your client to purchase credits directly with Mailee.me, without the agency's intermediation. If you leave this unchecked, only the agency will be able to access the payments screen and make purchases.
Show credits - Allows your client to view the amount of credits available for the account.
Enable integration - Do you want your client to be able to access the different integration choices with Mailee.me? Then check this option.
You can also add a custom link for the client, and their logo.
Giving account access to your client
One of the most useful resources of Mailee's agency plan is the possibility of managing client accounts separately, thereby allowing you access to every account from the same place. Your client, on the other hand, may only access their account.
Activating this is very simple. From the Dashboard of your agency account, go to Clients and access the account.
Inside the client's account, click Users > Create.
Just fill the form and click Save. With this, you are creating a user profile that your client will use only for accessing their account. The client won't be able to access any information on the agency account. On the same screen, you can define access permissions to content such as Reports, Messages and Admin.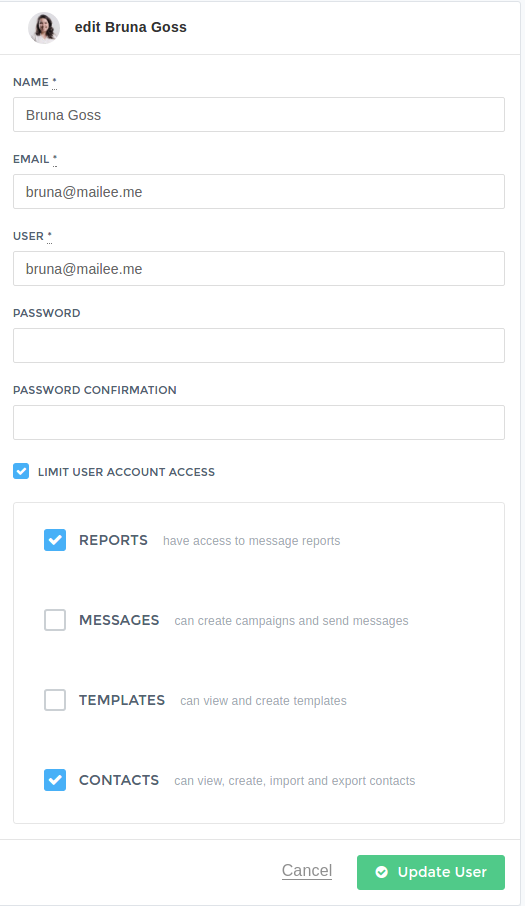 After this, just provide them with the login and password information.
You can learn more about users by checking out this article.
API for Agencies
For managing your clients' campaigns accurately, there is nothing better than integrating Mailee.me with your system. Using API for agencies, this is completely possible and also very simple.
[Learn more about this type of integration here.